VELKOMMEN TIL
MIDTDJURS LOKALARKIV
Header-foto er fra et maleri af S. Spang: Nimtofte Apotek.
Årstal er ukendt, men formodentlig ca. 1930. Maleriet findes i original på vort Arkiv. Apoteket startedes oprindeligt af søstrene Svane, hvorfra apotekets første navn udsprang: Svaneapoteket.
Her forhandledes i øvrigt også øl.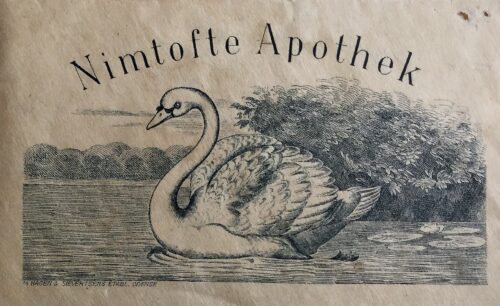 T.H. en recept fra apoteket i Nimtofte, da det endnu i dets logo havde en reminiscens fra dets første navn. Årstal ukendt, – men har du et godt bud herpå, hører vi gerne fra dig.
MIDTDJURS LOKALARKIV HOLDER LUKKET
21.DEC.2020 – 7. FEB. 2021
INDHOLD på denne forside:
SENESTE INDLÆG (19. jan. 2021. I oversigten – og kun i den – slettes emnerne efter to måneder).
BESØGSTÆLLER
KALENDER
GALLERI – indsat et tema om træer.
MONTREN i forhallen: Lukket men vi har dunet er alternativ, se nedenfor.
MUNTERT HJØRNE Den 15. jan 2021 er indsat lidt fra Fam. Journal 1929
NYT:
SEND FOTOS TIL OS (Den 19. jan. er nye tilføjet)
SPECIELLE ØNSKER
GENERELT OM SITET
KILDEMATERIALE
• SENESTE INDLÆG (indlæg indenfor de sidste 2 måneder)
2021
19. jan.
Nyt foto til opklaring er indsat under sporløs. Ligeledes har vi modtaget flere fotos til rubrikken nedenfor med emnet: Send foto til os (scrool ned).
18. jan.
Opklaring af sporløs fra 17. dec. 2020 er indsat tilligemed et nyt foto til opklaring.
13. jan.
Knud Jensen har skrevet om Koed Afholdsforening, – se under fanen Omegn.
13. jan.
Erland Skovbjerg har tidligere skrevet om "Helligkilder i Midtdjurs". Vi bringer en let revideret udgave under fanen Omegn.
12. jan.
Nedenfor under "Udstilling i vor montre" kniber det jo lidt her under Corona-krisen, fordi vi ikke har adgang til vor montre. Så vi improviserer lidt og bringer 1. del af en lille serie om Mortens Museum/Garage på Industrivej i Ryomgård – tidligere "De graa Busser". De første fotos herfra viser nogle veteranbiler, og fortsætter foreløbig tilsvarende, indtil vi kan komme til vore lokaler igen, når Corona forhåbentlig snart er fortid.
2020
27. dec.
Under fanen arkivhylden er indsat supplerende omkring sporløs af 1.dec og 17. dec. (angående Nimtofte Mølle). Fanen sporløs er kun beregnet til fotos og få kommentarer, derfor er dette yderligere – som vi først har modtaget nu – flyttet til arkivhylden.
17. dec.
Under Sporløs er seneste foto opklaret. Samtidig er et nyt indsat, som vi gerne vil have opklaret.
01. dec
Nyt foto er indsat under sporløs til opklaring
30. nov.
Nyt foto indsat under emnet: send foto til os. Se lidt længere nede?
29. nov.
Erland Skovbjerg skrev for mange år siden denne artikel om Nimtofte Forsamlingshus.

27. nov.
Sporløs fra 8. nov. er opklaret og fulgt yderligere op af en lille artikel under fanen Arkiv-hylden.
24. nov.
Vi har modtaget nyt om et af vore fotos fra 10. april 2020 under fanen sporløs.
22. nov.
Knud Jensen skriver om Frants Mortensen, en af de kendteste pionerer i Sundby-kolonien. Se under omegn.

SEND fotos til os
Kære publikummer: Du/I inviteres til at sende os fotos til vor site, gerne naturfotos eller andre af lokalhistorisk interesse, (men helst ikke personlige/familiære fotos).
Send dem til vor mail: lokalarkivmidtdjurs@outlook.dk.
Indsat 30. nov. 2020: Foto nedenfor er taget af Kurt Holm Soelberg.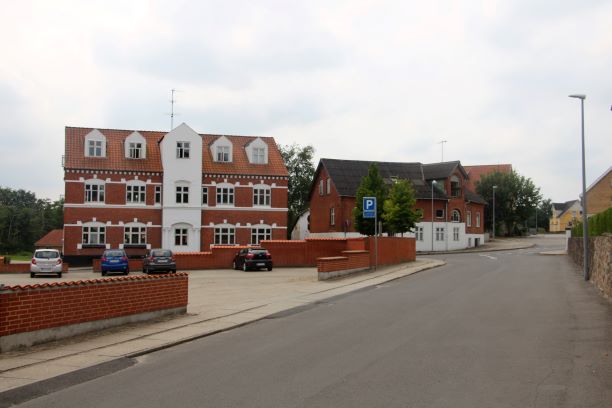 Indsat d. 15. jan.
Indsat d. 16 jan.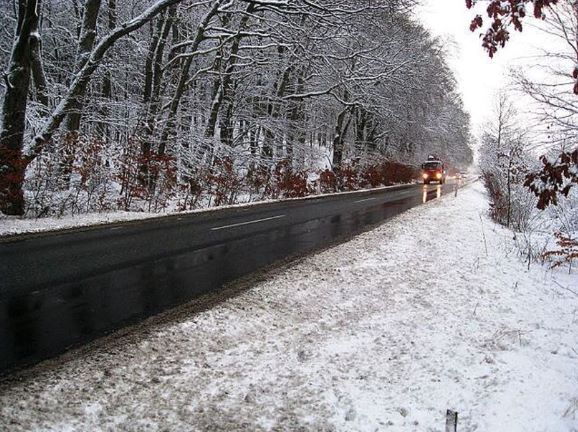 Indsat d. 19. jan.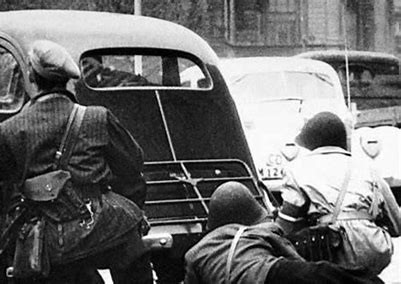 Specielle ønsker
Da vi påtænker en specialudstilling om besættelsestiden, vil vi meget gerne – ikke blot nu, men naturligvis også senere – modtage effekter (fotos og andet) fra 1940 -45. Kontakt os venligst, hvis du har effekter, som vi gerne må få eller blot fotografere. Se vore adresser under fanen: OM, eller brug blot vor mailadresse: lokalarkivmidtdjurs.outlook.dk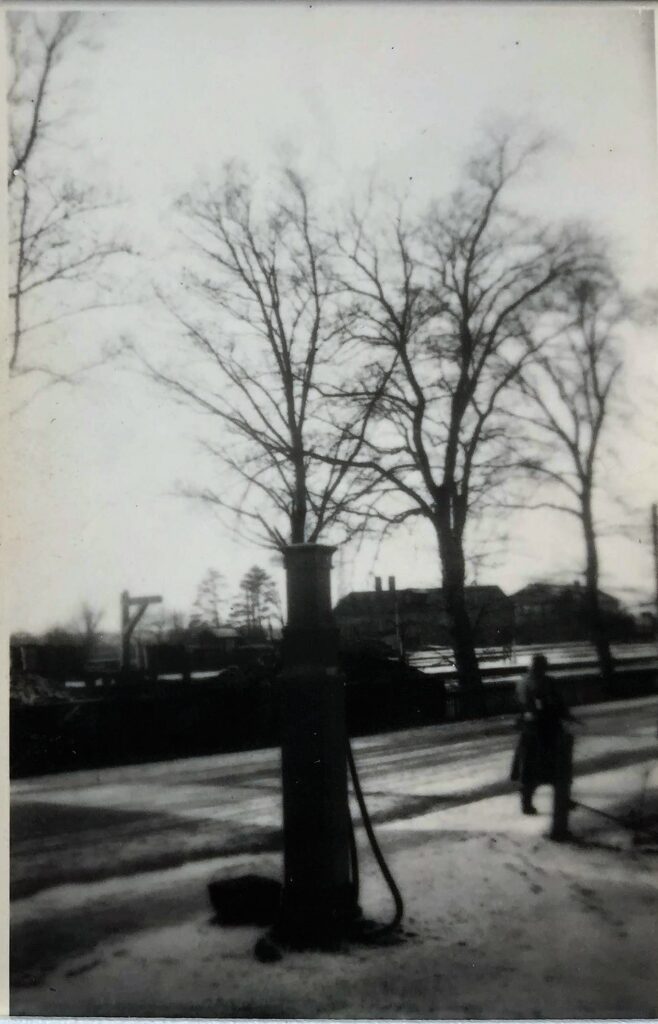 SOLDAT HOLDER VAGT CA. 1942
Det ikke særligt tydelige foto viser en tysk soldat med gevær på vagtrunde i rundt i Ryomgård. Her går han forbi Købmand Boysens benzin-stander på Jernbanegade.
I baggrunden skimtes lidt af jernbaneterrænnet samt – med de to skorstene – cementtagstensfabrikken, der senere blev omdannet til træbetonfabrikken RYPI (la Cours påhit efter forbogstaverne i Ryomgård – Pindstrup). Til højre herfor ses den senere JIFFY, dengang Ryomgård Ægpakkeri v/ Jens Chr. Møller. Han havde ansat en bestyrer Jensen. Pakkeriet måtte lukke i 1942.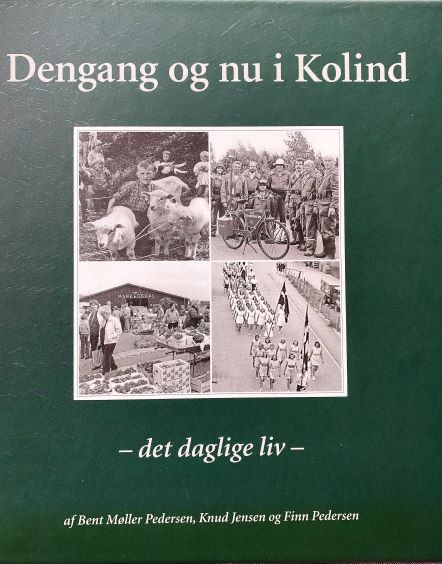 ✔ Dengang og nu i Kolind 2004 og 2005 af (Bent Møller Pedersen og Knud Jensen) bringes som PDF-filer i januar eller februar, – egentlig lovet i november, men vi er lidt forsinket.
T.v. ses et foto af den ene bog. Hvis man foretrækker at låne bogen fysisk, kan det godt lade sig gøre på biblioteket eller hos os på Lokalarkivet.
✔ I januar-februar bringer vi en billedserie om Mortens museum på Industrivej i Ryomgård
✔ I februar bringes en lille udstilling om vort arkiv, herunder indleverede tekniske apparater.
✔ Februar: artikel om Skarresø i gamle dage.
BESØGS-KLIK på vor hjemmeside
– www.midtdjurslokalarkiv.dk
Kage-Kalender:
Der kan jo byttes indbyrdes, men det er under kage-straf at glemme 😁
GALLERI – tema TRÆER
UDSTILLING I VOR MONTRE i forhallen til Kolind +
Corona har lukket Kolind +, og dermed også vor montre. Så vi har lavet en nødløsning: Fotos fra Mortens garage i Ryomgård (De graa Busser). Det er et lille museum, hvorom der er lavet en fotobog (- den er ikke til salg, kan ikke købes – ), men vi kan bringe nogle få fotos fra den. Vi starter med et lille afsnit fra automobil-museet i hallen på Industrivej i Ryomgård. Senere bringes flere.

MUNTERT HJØRNE OG GAMLE REKLAMER
Nedenfor en reklame fra ca. 1990 anbragt i et skobutiks-vindue i Randers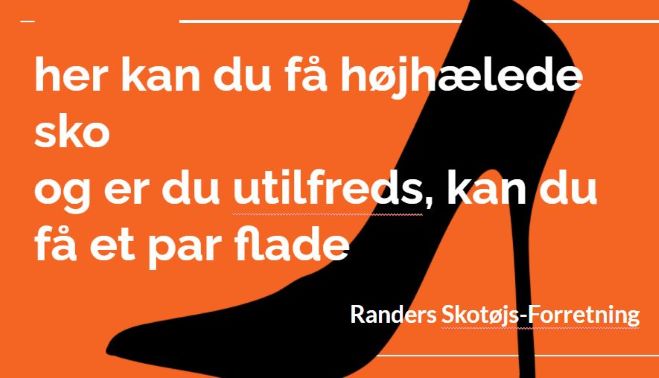 GENERELT OM SITET
Materialet til dette site kommer bl.a. fra Midtdjurs lokalarkiv samt fra sitet ryomgaardhistoriskeblade.wordpress.com, der af samme årsag er lukket ned og overført hertil.
Der er også materiale fra den tidligere site lokalarkivmidtdjursland.dk, samt dele af Ryomgaard Realskoles arkiv og endelig fra pensionist-bladet Optimisten.
Og naturligvis tilføres der også helt nyt til sitet. Om kilder henvises til nederst på denne side, samt til de enkelte indlæg.
Nyere fotos uden angivelse af opmand, skyldes web-masteren himself.
Der er copyright på sitet, men enhver må gerne plukke uddrag af tekst og fotos, hvis blot nærværende site angives som kilde.

Har du specielle ønsker eller gode ideer, kontakt os da. Vi modtager meget gerne indlæg fra alle, – kontakt venligst webmaster eller lederen af lokalarkivet herom. Se kontakter under: OM
Større format: Hvis ikke dobbelt-klik eller fingerspred virker, prøv da at højre-klikke på det pågældende foto – herefter klik på "åben i ny fane". Fotoet kommer derefter aller-øverst på skærmen som en fil. Klik på den og fotoet toner op i stort format.


• KILDER:
I det omfang kilder ikke er nævnt i teksterne, er de anført nedenfor:
Andersen, Axel: Marie Magdalene Kirke, 1968.
Bekendtgørelse for Almueskolevæsenet på Landet i Danmark, 1814.
Becker, Tyge A: Bondekrigen, 1887.
Carlsen, Søren Sloth: Hornslet by og sogn, 1982.
Danmarks naturfredning, 1954.
Dansk biografisk leksikon, 1982.
De Danske Statsbaner 1847-1947, 1947.
Historisk Årbog fra Randers Amt, 1975.
Hoff, Henrik Muhle von: Kort fremstilling af min virkekreds i Danmark, 1810.
Jensen, Niels: Østjyske Jernbaner, 1978.
Jeppesen, Alfred: Rejseliv i Danmark, 1962.
la Cour, J.C.B.: Danske Gårde, 1908.
Mehlsen, J.E.: Rundt om Ryom.
Mejnecke, Karl: En rejse på Djurs, 1970.
Lokalarkivmidtdjursland.dk, diverse artikler (sitet er senere nedlagt og de fleste artikler overført til www.midtdjurslokalarkiv.dk)
Munch, Carl: Ryomgård St. (I serien "Jydske Byer og deres Mænd"), 1918.
Munch, Erik: Erindringer (ikke offentliggjorte).
Olesen, Gunnar: Hovedgård og bondegård, 1957.
Provincial Lexicon over Danmark, 1778.
Stilling, Niels Peter: De nye byer, 1987.
Svenstrup, Carl: Grenå by's historie, 1938.
Trap- Danmark, Randers Amt 1.- 4 – udgave, 1856, 1875,1901,1925.
Udvalgsbetænkning om en Jernbane fra Randers til Grenå, 1870.
Ågesen, Åge: Geografiske Studier over Jernbanerne i Danmark, 1949.
Årbog, historisk: udgivet af Randers Amts Historiske Samfund, 1917-18 og 1975.
Herudover er hentet hjælp fra mange personer og institutioner, daværende Dommerkontoret i Grenå (tingbøger og akt), Herredsprotokoller, skjøde- og panteprotokoller (Landsarkivet i Viborg), Mariemalene-Koed og Omegns Sparekasses forhandlingsprotokol af 14. dec. 1896 og senere, mange aviser (bl.a. Jyllands Posten 13.3 1873, 10.10 1874 og 27.10 1874, Ryomgård Avis, 1925, Midtdjurs Ugeblad 1.5 1990 og Landbobladet for Djursland og Kaløvig 1933 – 38).
Kommentarer er slået fra, men jeg kan altid kontaktes pr mail jenseriks@gmail.com… eller pr. tlf. …28251100…..
Jens Erik Mehlsen, Ryomgård.



• copyright ©